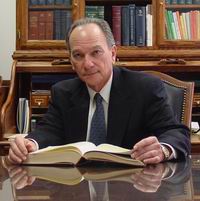 ---
Attorney Credentials

AV Rating from Martindale Hubbell
Florida Eminent Domain Law Firm, P.A.
121 S. Orange Ave.
Suite 1470
Orlando, Florida, 32801
Attorney Profile
Attorney Bio
Richard Stoner received a Bachelor of Arts degree from New York University and a Juris Doctor degree from Stetson University College of Law. He has practiced law in Orlando, Florida for more than thirty years.
Mr. Stoner's practice is concentrated in the areas of Real Estate, Corporate, and Business Law. His extensive background in Real Estate Law includes representation of buyers and sellers in complex commercial transactions, as well as residential real estate transactions. He represents clients in the purchase and sale of hotels, apartments, condominiums, shopping centers, subdivision developments, and large-scale real estate community developments. In addition to representing lenders in closing commercial and residential loan transactions, he represents developers in obtaining loans. His experience also includes the drafting of condominium documents for the creation of many condominiums, and the representation of homeowners in condominium associations.
Mr. Stoner is a member of the Florida Bar, the Orange County Bar Association, and the sections of the Florida Bar on Real Property, Probate and Trust Law, Corporation, Banking and Business Law and International Law. Mr. Stoner is board certified by the Florida Bar in Real Estate Law. As a lecturer, he has presented seminars on International Law and Real Estate. He has served on active duty in the United States Navy and is a retired Lieutenant Commander in the United States Naval Reserve.
Areas of Practice
Bar Information