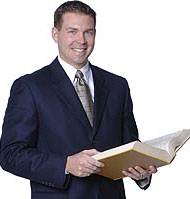 ---
Attorney Credentials

Rating of Excellent or Superb from AVVO.com

Selected to the Top 100 Trial Lawyers in the State by The National Trial Lawyers
Cannizzaro, Bridges, Jillisky & Streng, LLC
302 South Main Street
Marysville, Ohio, 43040
Phone
(937)644-9125
Fax
(937)644-0754
Fee Information
Flat and Hourly
Attorney Profile
Attorney Bio
Michael J. Streng is a partner at Cannizzaro, Bridges, Jillisky & Streng, LLC and is a dedicated trial lawyer who helps people who are often overlooked by the justice system. Specifically, Michael defends and represents those who have been charged with serous traffic and criminal violations.
In addition to his formal undergraduate and doctorate education, Michael has completed The Trial Lawyers College designed by Gerry Spence. Michael has aslo completed the same training as law enforcement in DWI detection and Standardized Field Sobriety Testing.
Michael is a contributing author to Trial Techniques for Criminal Cases published by Thompson Reuters/Aspatore, 2010 and has given numerous lectures on the legal issues of DUI and teaching other attorneys how to defend criminal cases.
In 2009 Michael was featured as the defense attorney for a CLE where a real OVI case was presented to a jury from jury selection to verdict. This event was recorded with closed circuit cameras inside the jury room for prosecutors and defense attorneys to learn how jurors process evidence in an OVI/DUI cases.
Michael has lectured at the OACDL Annual Advanced DUI Seminar ('07, '08, '09, '11, '12, '13); Presented on legal ethics in OVI cases for Lorman ('11); as well as many Driver Intervention Programs (DIP).
Michael is a member of the National Trial Lawyers – The Top 100 Trial Lawyers in Each State, the National Trial Lawyers – Top 40 Under 40 (Ohio), the Ohio State Bar Association, the Union County Bar Association (Past President), the National Association for Criminal Defense Lawyers and the Ohio Association for Criminal Defense Lawyers.
Areas of Practice
Bar Information
Bar Admissions
Ohio
U.S. District Court Southern District of Ohio
Bar Associations
Ohio State Bar Association
Union County Bar Association