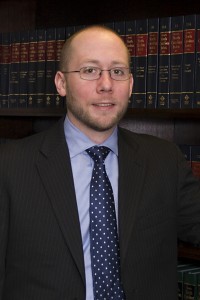 ---
Attorney Credentials

Selected as a SuperLawyer Within the Last Three Years

Selected to the Top 100 Trial Lawyers in the State by The National Trial Lawyers

Listing on BestLawyers.com
Baker Billick, PA
135 Union St., South
Concord, North Carolina, 28025
Phone
(704)782-0911
Fax
(704)782-0912
Fee Information
Contingency
Attorney Profile
Attorney Bio
Practice Focus: Luke's practice with the firm is focused primarily on personal injury law and he is the lead attorney in the firm's personal injury practice section. His practice is completely devoted to litigation and pre-litigation settlement negotiations. In addition to personal injury law, Luke handles miscellaneous civil litigation matters for clients of the firm.
Personal: Born and raised in Sylva, North Carolina, Luke is a native North Carolinian from the western part of the state. Luke grew up with the mountains as his back yard and has deep connection in his heart to that area of the state. Education: Luke is member of the year 2000 class of Appalachian State University where he graduated, cum laude, with a Bachelor of Science Degree in Fine and Applied Arts, majoring in Applied Communications and minoring in General Business. Luke attended law school at Campbell University's Norman Adrian Wiggins School of Law and graduated in 2007 cum laude.
Memberships: Luke is member/licensee of the North Carolina State Bar and Judicial District 19A Bar. He is admitted to practice in all North Carolina State Courts. He is also admitted to practice in the Federal Courts for the Eastern, Middle, and Western Federal Districts. Luke is also an active member of the North Carolina Bar Association, North Carolina Advocates for Justice (formerly North Carolina Academy of Trial Lawyers), American Bar Association, and American Association for Justice (formerly American Trial Lawyers Association).
Community: Luke is an active citizen in the Cabarrus County and Concord community. He is a member of the Concord Rotary Club. He has previously volunteered with local boy scout troops and for other worthy causes and organizations. Luke is a Master Mason and a member of the Ancient and Accepted Scottish Rite. Luke has previously served on the Board of Directors of The Community Free Clinic, a local non-profit organization devoted to providing healthcare to the uninsured in the community. Most recently, he was asked to serve as a Member of the Board of Directors for the Cabarrus Arts Council. Luke will begin serving in that role in August 2012. Luke believes strongly in the concept of service above self and in the obligation of attorneys to give back to their communities.
Areas of Practice
Nursing Home
Personal Injury — Plaintiff
Motor Vehicle Accidents — Plaintiff
Medical Malpractice
Areas of Practice
Bar Information
Bar Admissions
2007 NC State Bar
Bar Associations
Professional Associations and Memberships
North Carolina State Bar, Member
Judicial District 19A Bar, Member
North Carolina Bar Association, Active Member
North Carolina Advocates for Justice, Active Member
American Bar Association, Active Member
American Association for Justice, Active Member