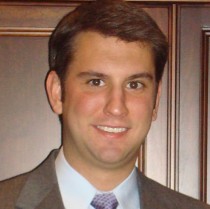 ---
Attorney Credentials

AV Rating from Martindale Hubbell

Rating of Excellent or Superb from AVVO.com
Hasbrook & Hasbrook
400 N. Walker Ave
#130
Oklahoma City, Oklahoma, 73102
Attorney Profile
Attorney Bio
Clayton practices in the area of general litigation, with an emphasis on personal injury law.
Our practice is focused exclusively on helping individuals, and we pride ourselves on always putting our clients' interests first.
Personal injury is a broad legal field which covers many different types of accidents and "torts," or civil (non-criminal) wrongs which cause harm or loss. Some of the most common case types involve automobile accidents, workplace accidents, and premises liability.
We only want the best for our clients, and you can rely on us to do what it takes to win. Let us put our passion and experience to work for you. Call us today at (405) 235-1551.
Areas of Practice
Bar Information
Bar Admissions
Clayton is admitted before all State Courts of Oklahoma and the Western District of Oklahoma.