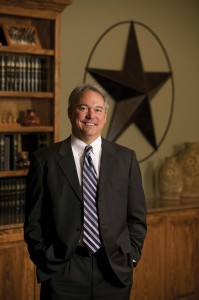 ---
Attorney Credentials

AV Rating from Martindale Hubbell

Selected as a SuperLawyer Within the Last Three Years

Rating of Excellent or Superb from AVVO.com

Selected to the Top 100 Trial Lawyers in the State by The National Trial Lawyers
Parker Law Firm
2317 Plaza Parkway
Bedford, Texas, 76021
Phone
(817)503-9200
Fax
(817)503-9203
Fee Information
Free Consultations. If we accept your case, we typically work on a contingency fee basis.
Attorney Profile
Attorney Bio
Mr. Parker's practice has focused exclusively in the area of trial work since he was licensed in 1985. His experience has included numerous cases involving negligence, wrongful death, bad faith insurance practices, serious injury cases, deceptive trade practices, wrongful termination, product liability, covenants not to compete, will contests, insurance disputes, breaches of contract, and general commercial matters. Over the last ten years his practice has been centered almost exclusively in the area of wrongful death, catastrophic personal-injury, and claims involving bad faith insurance practices. He has also represented the victims of sexual exploitation.
EDUCATION:
Mr. Parker obtained his bachelor's degree from the University of Texas in 1982 and his law degree from Texas Tech University School of Law in 1985. Immediately after law school, Mr. Parker was a trial lawyer with a large Fort Worth firm. He then formed the firm of Watson & Parker and then Noteboom & Parker, before establishing The Parker Law Firm.
Areas of Practice
Bar Information
Bar Admissions
State Bar of Texas 1982
Bar Associations
Texas Trial Lawyers Association
Tarrant County Bar Association
Tarrant County Trial Lawyers Association