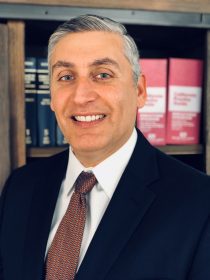 ---
Attorney Credentials

AV Rating from Martindale Hubbell

Selected as a SuperLawyer Within the Last Three Years

Selected to the Top 100 Trial Lawyers in the State by The National Trial Lawyers
Law Office of Ara Jabagchourian
1650 S. Amphlett Boulevard, Suite 214
San Mateo, California, 94402
Attorney Profile
Attorney Bio
At the Law Office of Ara Jabagchourian we offer civil litigation in numerous areas, including product defects, medical negligence, catastrophic personal injury, antitrust, financial fraud, construction fraud, corporate dissolution, contract disputes, and complex business litigation.
SIGNIFICANT TRIALS AND CASES
As lead trial counsel, Ara R. Jabagchourian obtained a $114.5 million alter ego verdict against the spouse of the CEO of HL Leasing, Inc., a directed verdict for $114.5 million against three corporate defendants, and a jury verdict in the amount of $47.22 million against two former corporate officers in a class action trial held in Fresno County. The case involved an alleged Ponzi scheme operated by HL Leasing, Inc. and had resulted in losses to over 1200 investors. Massoyan, et al. v. HL Leasing, Inc., et al., Fresno Superior Court Case No. 09 CECG 01839 August 5, 2011.
As co-lead trial counsel, Jabagchourian represented the City and County in San Francisco in a fraud claim against a city contractor who submitted false bills for payment. The city contractor brought a cross-claim seeking over seven million dollars of taxpayer money for an alleged violation of federal constitutional civil rights under 42 U.S.C. section 1983 related to the loss business value and nearly a million dollars under a breach of contractor claim. The jury found that the city contractor intentionally misrepresented claims made through the submission of false invoices to the City and County of San Francisco in addition to breaching the contract with it. Furthermore, the jury completely rejected the contractor's claims for a violation of civil rights and its breach of contract, awarding them nothing. City and County of San Francisco v. Cobra Solutions, Inc., et al., San Francisco Superior Court Case No. CGC 03-417-218 February 15, 2012.
He also recovered the largest individual wrongful death verdict in San Diego County history, when a jury awarded $17.4 million to the wife and three children of a high ranking U.S. Naval Officer, who was killed while riding his bike in a collision with an American Medical Response transport van. Mazurek, et al. v. American Medical Response, et al., San Diego Superior Court Action No. 10-83975 May 20, 2011.
In the case of Davis v. Hope Life Foundation, et al., he obtained a unanimous jury decision related to an out-of-state financial organization that defrauded its customers through sham trusts and promissory notes.
In Siller v. Siller Brothers, Inc., Frank M. Pitre and Jabagchourian obtained a multi-million dollar trial judgment related to a corporate dissolution action filed on behalf of a minority shareholder.
In Murillo v. National Passenger Railroad Corporation, et al., he settled an action against Union Pacific and the State of California Department of Transportation related to the wrongful death of an elderly couple because of an allegedly defectively-designed railroad crossing. The case was brought on behalf of the children and grandchildren of the victims.
Jabagchourian represented Arthur Mkoyan, a Fresno high school valedictorian, and his family, who were facing imminent deportation after seeking asylum from the former Soviet Union in 1992. Arthur and his family were allowed to stay, with Arthur now attending college in California.
Jabagchourian was also appointed as liaison counsel in the matter of In re: Crown Princess Listing Incident, a case involving the substantial tipping of a Princess Cruise Line ship off the coast of Florida. The action involved more than 200 injured plaintiffs. The action was filed in Los Angeles Superior Court.
PRIOR EXPERIENCE
While attending Hastings, he was a judicial extern for Presiding Justice James Ardaiz of the California Court of Appeal, Fifth Appellate District and Justice Marvin Baxter of the California Supreme Court.
Following law school, he worked for the Federal Trade Commission's Bureau of Competition in Washington, D.C., in investigations dealing with conspiracies, monopolization and mergers. In 2001, he joined private practice, working on antitrust matters with an emphasis in antitrust/intellectual property overlap issues.
COMMUNITY RECOGNITION
Jabagchourian's verdict in Massoyan v. HL Leasing, Inc., et al. was recognized as one of the Top 100 Verdicts in the United States in both the National Law Journal and VerdictSearch in 2011. The Recorder, a California legal newspaper, placed Jabagchourian's result in the same case as one of it's Top 10 Verdicts by impact for 2011. The National Trial Lawyers Association has selected Jabagchourian as one of the "Top 100 Trial Lawyers" in California for years. The Armenian Bar Association selected Jabagchourian as one of its "20 Rising Stars Under 40" in 2011. He was also selected as a Rising Star in Northern California, an honor bestowed on the top 2.5% of attorneys under the age of 40. The Consumer Attorneys of California selected Jabagchourian as one of its finalists for Trial Lawyer of the Year in 2011 and in 2012. For its centennial celebration, California State University, Fresno's College of Arts & Humanities had selected Jabagchourian as one of its Distinguished Alumni.
Seminars & Speaking Engagements
Consumer Attorneys of California – "Voir Dire Roundtable"
2013
Consumer Attorneys of California – "Successor-In-Interest Liability"
2012
Continuing Education of the Bar – "A Complete Guide To PMQ Depositions"
2012
San Mateo County Bar Association Business Litigation Section
2012
Lorman Education Services – "Taking and Defending Depositions"
2011
Consumer Attorneys of California – "Intellectual Property for the Plaintiff's Bar"
2011
Continuing Education of the Bar – "Conflicts of Interest"
2010
Lorman Education Services – "Rules of Evidence In California"
2009
National Business Institute – "Direct and Cross Examination for Civil Litigators"
2008
Lorman Education Services – "Discovery Skills for Legal Staff and Young Lawyers"
2008
California State University, Fresno, Dept. Of Economics – "Antitrust and Intellectual Property Overlap Issues"
2007
Lorman Education Services – "Personal Injury for Paralegals in California"
2006
Publications
My Defendant Is Dead, Now What?
January 2013
Advocate, Volume 40, No. 1
Primary Assumption of the Risk: An Ever-Growing Doctrine
January 2012
Advocate, Vol. 39, No. 1
Evaluating Ponzi Schemes
February 2011
Advocate, Vol. 38, No. 2
Conflicts of Interest Arising from Successive Matters
2010
California Litigation, Vol. 23, No. 1
The Law On Predatory Pricing In California
2010
Competition: The Journal of the Antitrust and Unfair Competition Law Section of the State Bar of California, Vol. 19, No. 1
Getting Your Injury Case Out Of Bankruptcy
March 2010
Plaintiff, Vol. 4, No. 3
The Threat of Intervention in Your State Court Class Action
January 2010
Forum, Vol. 40, No. 1
Establishing "Alter Ego" Liability
December 2009
Plaintiff Magazine
Areas of Practice
Bar Information
Bar Admissions
California State Bar
Bar Associations
Consumer Attorneys of California, San Mateo County Lawyers Association, Armenian Bar Association