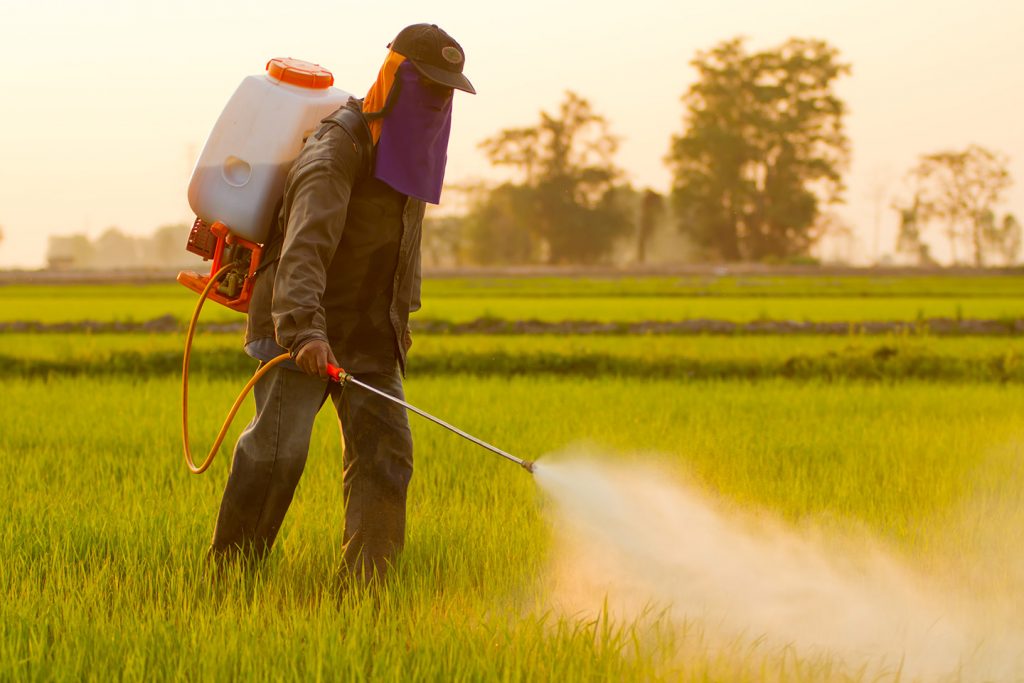 When, several years ago, the agrochemical firm, Monsanto, introduced soybean seeds that could tolerate an herbicide known as dicamba, farmers in the US went wild. Terry Fuller, a cattle raiser and soybean grower, was ecstatic when the news came to Arkansas where he lives. "I absolutely wanted to spray dicamba in Arkansas and the rest of the nation," he told NPR. With these new seeds (labeled 7478XTS), farmers like Fuller could spray dicamba on their crops and kill unwanted broad-leaf weeds, while maintaining the integrity of their soybean plants in the process.
It was too good to be true. Fuller, a member of one of the most publicly available regulatory bodies in the country, noticed that the herbicide was traveling miles to nearby crops, where dicamba could do its dirty work. It killed innumerable plants in major farming states throughout the US. Fuller and the Arkansas State Plant Board decided there was only one thing to do: ban the herbicide between April 16th and October 31st, the major growing months. After several county courts nixed the rule, the Arkansas Supreme Court stepped in at the end of April to reinstate the ban, marking a major win for Fuller and some of his fellow farmers.
Lower Courts
Prior to the high court's ruling, there were at least four legal complaints filed in lower courts throughout Arkansas, according to the Arkansas Times. The largest of the four complaints was filed in Mississippi County, where 85 farmers expressed their desire to use dicamba once again. The four cases emerged after Pulaski County Circuit Judge Tim Fox ruled that six plaintiffs were not constrained by the ban. Fox's ruling was itself informed by a State Supreme Court decision granting sovereign immunity to regulatory bodies like the Arkansas State Plant Board.
Essentially, the high court decided that regulatory agencies could not be sued in most cases. Fox, therefore, threw out the lawsuit brought by six farmers, but after dismissing the suit, he added that the farmers were effectively barred from gaining any relief in courts. This, he argued, was a direct violation of due process rights. Fox then blocked the dicamba ban for the six plaintiffs, arguing that the due process violation rendered the ban null and void.
Which Way Is Up?
Following Fox's decision, courts in Mississippi County and Phillips County issued similar decisions, placing temporary injunctions on the dicamba ban. Those orders caused quite a stir in Arkansas, where farmers could not figure out what to do in light of the rulings. Mike Sullivan, a farmer in Arkansas, told NPR, "This not-knowing thing is concerning." He added, "It's embarrassing, is what it is." Tom Burnham, another farmer, put it bluntly: "Nobody knows what's going on."
Now, with the Arkansas Supreme Court's decision, the ban is back in full effect, so farmers should have an easier time making decisions about their crops.
Transparency
Arkansas stands out for its transparent approach to farming regulations, even if the process has been turbulent. Other states have instituted watered-down rules that require farmers to use dicamba in a particular way, following Monsanto's argument that dicamba can be safe if used properly. These states have made their regulatory decisions in the usual way: in private, closed-door sessions. By contrast, the Arkansas State Plant Board holds its meetings publicly, and anyone can approach their offices with complaints or suggestions.
Life and Death
That doesn't mean, however, there hasn't been a lot of back-and-forth, and indeed, in at least one case, blood-shed. The Arkansas Times published a lengthy piece last year on the background of the dicamba debacle, highlighting the story of Mike Wallace, a farmer whose crops had been severely diminished by the wayward herbicide.
In 2016, Wallace told the Wall Street Journal that dicamba had decimated at least 40 percent of his crops. After some investigation, Wallace deduced that a young farm-hand named Allan Curtis Jones might have some information about the herbicide. Wallace believed that the farm where Jones worked was the source of his misery. When the two met on a lonely highway near Leachville, tempers allegedly rose, and after Wallace grabbed Jones' shirt, the young farm-hand took hold of his pistol and emptied the round. Wallace fell while Jones' cousin attempted to stop the bleeding. Now, Wallace's grave stands not 20 feet from a pear tree, deadened by dicamba.